"Family Picnic" in Hai Ou Islalnd
更新:2015-11-08 20:38:13 | 分享:Ellie ( V460 ) | 来源:原创 | 阅读:289
标签:
"Family Picnic" in Hai Ou Islalnd

This is the second time whenI joined in the outdoor activity held by GEC since the short trip in Dong Shang Kou last time. It's been quite a while but I was always warmed by the kindness of the volunteer and the good mood after trip.

As I heard only 100 people were excepted in this activity but the organizer had to enlarge the group to 130 by attendee's unlimited passion. Although it was obviously adding the burden and difficulty for the organizer, they still made it.

It was on the first day of November, I awaked by alarm clock and found the weather was a little grey and cold. With hesitation in my mind, I got up and made a call to my friend whom I invited yesterday to join in the trip together. I wished that I still got the chance and she would say she didn't want to go. But She said she was already in metro on the way to Hai Ou island. I knew I needed to move fast since I still didn't prepare the sandwich that I promise to bring.

After washing my face, I turned to a crazy channel. I ran down the apartment to buy some eggs and fresh vegetable. Then fried the eggs, washed the vegetable, put the salad on the bread. After half hour, my sandwich were done. I checked the time and found it was already 9:45. I know I need to rush. I fried down and ran all the way to the bus station. After getting on the bus, I received the phone call from my friends. She told me she was already arrived at the destination. After 40 minutes, I arrived at Hai Ban Metro station, the assembly area.

After meeting my friend, We walked for the bus station to take another bus to arrive Hai Ou island. But we kept waiting and waiting, the bus still not come. Finally, one came, but it was not big enough to collect all the members. So we decided to turn to another bus which have to exchange to another bus to the destination. During the period, I met Seas a responsible leader, molly a enthusiastic girl, Clara a sunny girl, and some new friends, Wisky our selfless team leader, Candon our exclusive photographer, Tracy a sunny girl, Elisa brave girl, Jasmin a nimble girl, Mingming easy-going girl. Oh, right, my friend ShaoYing a hard-working girl. About me? I am a silly girl.

Although it's a long and trouble way to come but with all the friends' company, we all made it without complaining.

It was near half past noon when we arrived at the destination. . When I still considering what to do, Clara and Elisa already washing vegetable and cutting meat. Another girl rolled up her sleeves and threw the chicken into the pot. Shortly afterwards the first dish rice-wine-chicken done. The cooking feast started. Everybody was encouraged and all itched to help. Some washed the material, some made more fire, some bought ingredients. After a while, I saw a person standing beside the Chinese traditional oven brandishing with a scoop in the smoke. He is our team leader Wisky. A few minutes later, fried duck-meat, chicken wing and cola then fried egg. In the same time Shaoying was already cooking the beef meat ball soup, which is absolutely authentic ChaoShan specialty.

Thanks to everybody's work, our team was the first one finished the dishes. Including Italian noodles and bread brought by Elisa, two more dishes given as a present by the person from next table, the sandwich and a plate of fruit brought by Candon, we got 10 dishes.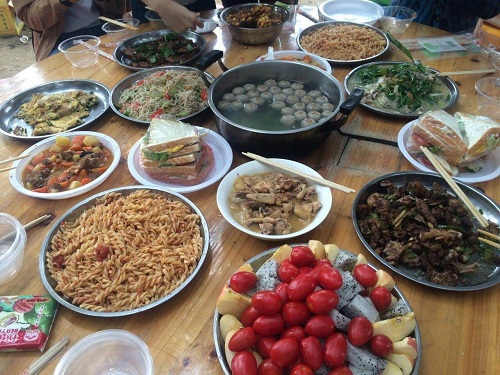 Surrounded by admiring eyes, our diner began. I enjoyed it so much that I seldom joined the chatting. As a Chaoshan people, my favorite is to the beef ball meat. They are so yummy yummy.

After lunch, we rided bicycle along the dam and enjoyed the sea view and then took the bus back home. It's really worthed to come.Grouping up in a big family, I enjoyed people surrounding together laughing and making jokes with each other. I feel GEC is just like a big family, who always welcome you to come and smile to you when you are leaving. The volenteers in GEC are all lovely and with pure heart. Hoping the love can be passed one by one and keep warming more people in Guangzhou.