Vincent - Never stop learning!
更新:2016-04-13 14:16:31 | 分享:Vincent ( V1929 ) | 来源:原创 | 阅读:318
标签:
Hi, everyone! My name is Vincent. I was born in Shaoguan, but I grew up in Guangzhou. At present, I live in shiqiao, Panyu district, but I work in Tianhe.

I like reading, playing badminton, cycling, hiking, travelling, etc. Moreover, I was good at Taichi when I was in high school and university, and I got the first prize in the university. It's such a special exercise among young people that I couldn't insist in practicing it.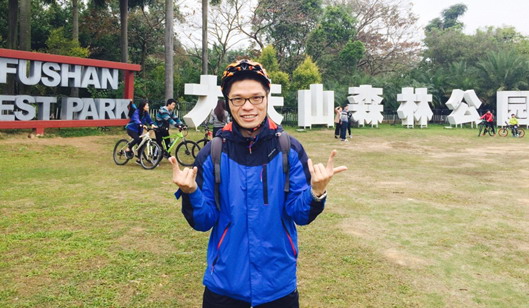 Since last December, I realized that I should have one kind of exercise which I can insist. And I made a plan for myself which was to run for a hundred days nonstop. I did it! During the one hundred days, I felt that I can handle things such as time much better than before. One day, my colleague asked me to take the marathon activities together. Therefore, I took part in Yangjiang Hailing Island International Marathon for the first time in my life in 27th, March, 2016. Nowadays, I go running 6 kilometers every other day, and I will keep doing it.

I like speaking English. Since I began to learn English, I have fallen in love with it. Focusing on listening and pronunciation of English, I feel confidence when talking with it. I could enter the college because of my English scores, so I cherish it very much. Nevertheless, I didn't have any opportunity to use English after university which made me feel upset. In this case, several years later I went to an institution to retake my English. I never stop learning! Now I feel much better when I'm talking in English, and I feel confidence in the English environment, such as talking with foreign friends, and taking part in GEC activities. What's more, I finally find a job in a trading company which not only based on my major, but also related to English!

It's really nice to be a volunteer of GEC. This is a great platform not only for me to meet a lot of new friends from different industries, even from all over the world, you can also learn many new ideas or knowledge! Each time I join the GEC activities, I feel happy to share different opinions with new friends. When playing English games, I can feel that everyone will try to involve in it. I like to share my opinion with you when you come to GEC. Thanks to GEC, and welcome to GEC to be one of my friends!