【专业英语陪同口译】Sunny - Professional English Interpreter
更新:2019-02-11 14:19:36 | 分享:Sunny | 来源:原创 | 阅读:246
标签:#English#Professional
Hi my friends, Welcome to China ! This is Sunny from Guangzhou,China,I am a considerate, organized ,reliable girl who can make you a wonderful and successful trip in China. I am with 5 years' experience in interpretation and business assistant.



I am familiar with wholesales markets in Guangzhou, Foshan ,Dongguan,Shenzhen etc, and products like Hardwares, Machinery; Lighting, LED products; Building material, Furniture and Sanitary; Toys, Clothing, Leather Bags & Shoes etc.

I can quickly sourcing factories with good price and good quality according to your products requirements. I have provided services like sampling, ordering, following up production schedule, doing inspection, supervise loading containers and arrange shipments for clients from USA, Canada, UK etc.

If you are looking for a knowledgeable interpreter, sourcing agent or business assistant, please contact me now, my professional service will save your time, money and make your business in China easy and successful!

Cheers !
Sunny

What I can do for you:

- Business Interpretation for exhibition, wholesale market, factory visit/audit
- Sourcing & Visiting Factories / Suppliers
- QC, collect goods, arrange shipping /Negotiate price, Check goods quality, Arrange shipment.
- Business Meeting / Negotiations
- Market Research
- Help Client Set up Office
- Business Companion
- Secretary Service
- Personal Tour Guide
- Show Local Culture/ Food /Shopping/ Entertainment

Working Experiences :

1. Being an interpreter/guide for 5 days for our Australian client Moe when he came to Kaiping, Guangdong market looking for tapwares&kitchen sinks and he found what he needed successfully with my assistance in May,2014.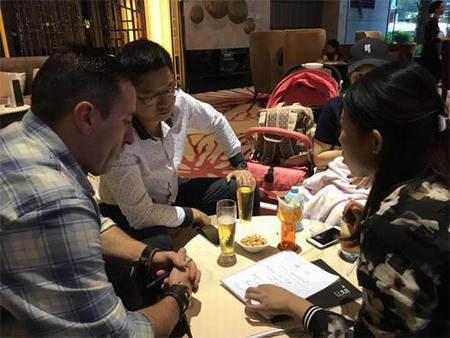 2. Acted as an interpreter for our Canadian client Douglas when he came to Guangzhou to visit their vanity supplier and had his new samples made before he headed back in April, 2015.

3. Assist my client Andrew to export to the USA,because he runs a store in San Francisco, I've helped him to find some very good suppliers during 2014-2015, everytime when he comes to China ,we worked efficiently and joyfully together.

4. Being an interpreter for clients for 5 days to attend Hong Kong Global Source Fair for electronic products for Guangzhou Xinpai Electronics Co.,Ltd in October,2016.

5. Worked as an interpreter and tour guide for 2 days for Director of California Commission on Tourism in March,2016.

6. Being an interpreter for 1 day for business negotiation of Chinese and the UK clients in April,2017.



7. Worked in factory of MN Kitchen&Bathroom Co.,Ltd for 2 years,as an export business manager.I worked in the factory ,and know every procedures very well ,and take charge of reception for the customers when they come to visit our factory.

8. S.M.I International Trading Company : Being an interpreter for 3 days for Philippine client Leslie looking for ceramics, and provided one stop sourcing services like sampling, ordering, following up production schedule, inspection and arrange shipping for clients.

9. Assisted an American client when she came to China looking for furniture for her hotels for 5 days, and helped her to do the inspection and arrange shipping for her.

10. Being an interpreter for two Australian clients sourcing for machinery :forklift,fiber laser cutter and CNC press for 7 days,we go travelling and visiting factories in Guangzhou Foshan and Wuhan , they are satisfied with the work with me.

11. Being an interpreter and guide for an American client during the canton fair period,and her business is focus on the gifs.She had found a lot of good product she neeeds.We have a happy and satisfied business trip.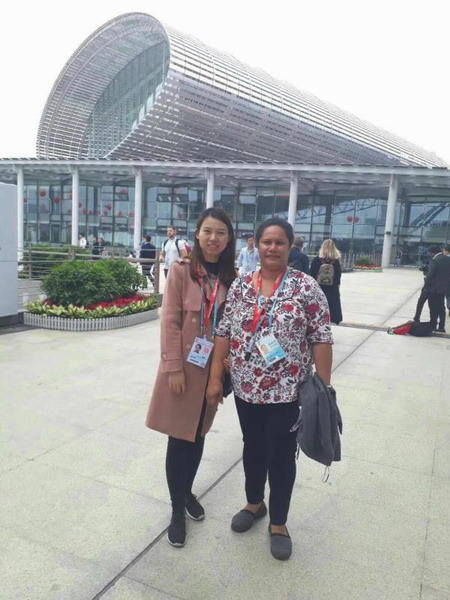 12. Assisted my Australian Clients to source Laser cutting machine ,Air compressor,Bending machine and Forklift for 7 days in China

13. Lumi Lighting Co., Ltd. : Being an interpreter for meeting translation and assist him to set up an office in China.

14. Cardinal Group Precision Products(Huizhou)Co.,Ltd, being an interpreter for my American client for 5 days in the factory

15. Hangzhou C&L Clothing Co., Ltd.,being an export sales manager in the company for 2 years.

16. Frenda Clothing Co.,Ltd, my clients run a fashion clothes store in Israel, I helped her to visit different clothes markets,eg.Baima clothes market,Shisan Hang clothes market, Hongmian clothes market,Huimei international market etc.They are very happy and satisfied to find the good clothes resources and export the goods to Israel.They are very happy.

17. Trio Energy Co.,Ltd., my clients are from Papua New Guinea, I guide them in the Canton Fair to find their target products quickly and save time to talk and negotiate with the supplier to quote their best price with reasonable MOQ, and I guide them to the bag markets and electronic equipment market and help them to import products from China to Papua New Guine. They are very happy that I help them with efficient work.

I enjoy my job very much and looking forward to support&work with you soon!


---
If you think he/she is good for your assignment, please feel free to send the detail of your assignment to mailbox : 344439624@qq.com, we will arrange for you ASAP.

Please aware that GEC is just a platform for information sharing, we have no responsibility or guarantee for the authenticity of Information from service provider and assignment provider.

如果您觉得他/她适合接受您的工作或任务,请将任务信息发到邮箱:344439624@qq.com, 我们会尽快为您安排。 温馨提示:GEC只作为信息分享平台,我们不对双方信息的真实性及项目安全性负责,敬请自行甄别。